Bespoke advice tailored
to your interests.
We can solve your insurance problems.
Whatever they are.
We find the best insurance proposals
to meet with your needs.
Our services
Every day we go the extra mile to fulfil our clients' requirements, drawing on our expertise and passion, and with the utmost transparency.
For retail clients
We analyse your insurance requirements and draw up a bespoke proposal for you.
24-7 assistance
Our relationships with clients are based on cooperation, a partnership rooted in mutual trust.
For companies
We offer solutions for companies of any shape or size, catering to the most disparate insurance requirements.
We work with the main companies operating in Switzerland. For each of these we can identify the best solution to meet with your own specific needs.
Our clients' (sincere!) opinions.
We have been relying on Francesco Soldati and his team for around 10 years. As well as having the necessary expertise, we have always appreciated the major willingness to help out and the ability to come up very quickly with optimal solutions to our insurance problems.
"You'll never achieve real success unless you love what you're doing." I think this is the key aspect, along with the expertise, warmth and spirit of cooperation of the entire team.
Problem and solution the rule of 1291 Insurance Brokers Ltd.
We have been clients for a number of years and have always received excellent service. The team is friendly and always available to help out, as well as being reliable and competitive. Excellent assistance.
We have been assisted by Francesco and his team since we moved to Switzerland. Maximum professionalism and patience regarding both insurance as well as issues relating to our business.
You can focus on running a business because 1291 Insurance Brokers SA looks after any problems.
Francesco always answers the phone by the second ring (at the latest) and in a couple of minutes is able to illustrate and resolve any situation effectively and with absolute clarity.
What's new. Articles and news.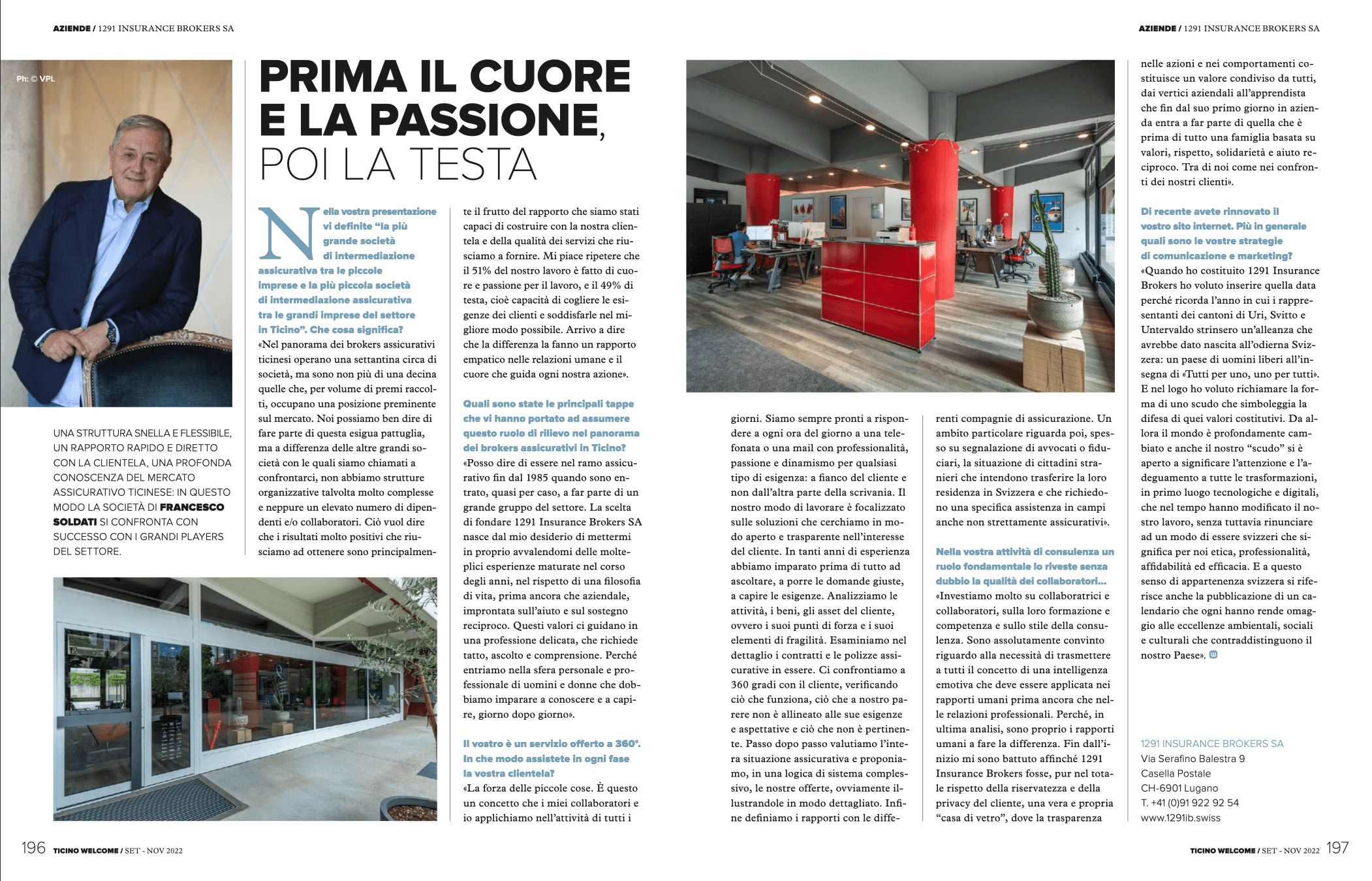 NEWS
We talked about who we are in the September 2022 issue of Ticino Welcome.
We are always available to provide advice at our office in Lugano, or also if appropriate at your office or home.